Todays blog post will go over some of the things that the [AK907] Clan is working toward, including the partnership with the newly formed GCN (Gaming Community Network), changes to our server(s), new features on our server(s), including plugins that have been installed and streaming screenshot hosting, the return of the weekly clan event, our upcoming clan meeting, among other things.
[AK907] Weekly Clan Events
The [AK907] Weekly Clan Events will be starting back up over the next few weeks, but GvnrRickPerry will no longer be heading them up. [AK907]Gr0wzy and [AK907]Dedaciai have volunteered (or have been volunteered) to take over the weekly clan event, so if you have thoughts or ideas about how this should work, please let them know! The weekly events should start the first or second week in January, though I am not sure about this because I haven't heard anything about it since the event coordinators took over.
I will say that putting on those weekly events is no small task, especially now that AK907 has grown to 40+ members! So keep that in mind when you are participating in those events, and give those guys a break! 🙂
[AK907] and GCN
As most of you know, I've been trying to find a way to "partner" with other clans and communities so AK907 can not only better ourselves, but to try and grow some relationships that will help everyone involved out. Well, it looks like some other clans/communities had the same idea I did, and they came together and made an official statement about it a few weeks ago in the Battlelog forums (here's a LINK if you want to take a look at it). Less than 48 hours later, they had already met with a DICE official and they have the full support of several of the largest communities in the world! GCN (Gaming Community Network) is influencing Battlefield by hosting well over a million unique player IDs between our communities, hosting over 10,000 slots on just our Battlefield servers, paying more than $250,000 in server rental fees in over 2 years (just for BF3!), and giving away tens of thousands of dollars in gaming merch, including copies of games, graphics cards, and peripherals to members of our communities.
GCN Goals:
To create a focal point for Gaming Community Leaders and Admins to air their concerns and ideas
To take Battlefield to the next level of community involvement
To open up a direct line of communication with the developers of DICE and to voice the concerns of players and server owners alike
To engage with EA/DICE in constructive dialogue regarding our concerns
To facilitate cross-community events, ladders, and tournaments on a scale Battlefield has never seen
Requirements we have agreed to in order to be a GCN Member:
We agree to follow and enforce the Battlefield terms of service, clearly state our individual server rules, both in-game and on our website, to have a ban appeal process to give players a chance to plead their case, to agree to open lines of communication between GCN and other communities partnered with GCN, and to participate in GCN's goals/initiatives.
Over the coming weeks and months you will hear various updates from me regarding items discussed in the GCN meetings. Some of the things I hope we accomplish through this group are increased server stability (lets face it, the servers still crash), assisting with setting up a knowledge-base, setting up tournaments and ladders for those who want to compete, and so much more!
A reminder to clan members: Please do your best to represent the DICE Terms and Conditions (AKA: BF3 Rules of Conduct) located here (http://tos.ea.com/legalapp/ROC/US/en/PC/BF4). DICE has implemented things like "OFFICIAL" servers because of ridiculous amount of badmins in BF3. We want to follow the rules, to the letter, for DICE so hopefully they will give us server owners a little more freedom to control what we pay for. That being said, I would like to remind our server admins that we are not here to straight up sit and be admins all day. We are here to monitor our servers and enforce the EA/DICE terms and conditions (aka: Rules of Conduct), along with any rules that AK907 has. The last thing we want to do is to have to kick, or even worse, ban someone from our servers. There has only been one case where someone came into our servers and was blatantly disregarding both AK907's rules as well as the DICE Rules of Conduct, even after being warned several times, and that person was issued a two week ban across all AK907 servers. The ban was announced in our forums, under the "Got Banned?" section, and the person could have came to plead their case, but they did not because they new they were in the wrong. The reason I am writing this is to set an example to all of the admins that AK907 has – please do your best not to "over-admin", and only speak as an admin if you must. If you are thinking about saying something or taking action against a player on one of our servers, please take a look at the AK907 server rules (located here: https://www.ak907.net/ak907-server-rules/) and ask yourself if the player is really doing something wrong or just being annoying. If they are, warn them. If it continues after a few warnings, initiate a kick or a temp ban, and then POST IN THE FORUMS what action you took, what rule they broke, and why you did it… Try to include as much information in that post as possible, as it could come back to haunt you if it was a "badmin" decision.
The GCN is looking for volunteers for various things – if you think you could provide some benefit to them (video editing, marketing, recruiting, writing, server management, forum management, etc.) please let me know the skill-set you have so I can discuss it with them!
[AK907] Battlefield Server
There's been a lot of changes to the [AK907] Battlefield 4 server since Battlefield 4 released. Including, more than 16 server-side updates from DICE, the installation of multiple plugins, and streaming configuration for several Anti-Cheat Ban sources.
AK907 currently has 3 Battlefield 4 servers – CQ/RUSH, DOM/OBLIT, and 24/7 MIXED MODE CHINA RISING VOTEMAP. All servers are 32 slot servers. This is a little much for us to manage right now, as I've seen we've been able to get two of the servers populated, but when we try to populate the third one, one of the other servers usually dies.
The end of this month will bring us change though. We are re-merging the DOM/OBLIT and RUSH/CQ servers to be a single 66 slot server, which I will be installing adaptive ticket count and adaptive player count plugins on to make them easier to populate. As far as maps, game modes, and rotations, I have no idea what we are going to do yet, but I will get some feedback about this at our next clan meeting so we can move forward with a consistent server model.
We are now proudly streaming our Punkbuster log files and active gamehack violation bans to/from the following Anti-Cheat sites:
AntiCheat, INC
PBBans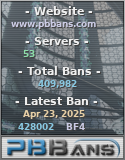 GGC-Stream
These streams should limit the amount of hackers we have on our servers, and I am really looking forward to playing in this new "clean" environment! On top of the streams, we are also using a screenshot viewer tool to manage Punkbuster screenshots, and so far it is working GREAT!
On top of the above, our server is using at least the following plugins:
MetaBans

A global ban list used by many admins

xVotemap

A votemap utility where players can vote for the next map and game mode

MultiBalancer

A VERY complete rank and skill balancing utility that has come in quite handy in the past
We are still working out the various "kinks" caused by these various system, but all in all the environment should be well managed and very fun to play in. If something doesn't work like it's supposed to, please report it to myself via TeamSpeak, so I can either add it to the list or confirm it's already on the list.
[AK907] Clan Meeting
Well the next clan meeting is coming up in a few weeks – it will be Sunday, January 5th, at 8:00 PM Central Time. I will be having semi-regular meetings with the GCN and hope to have lots of news to report to you guys regarding the ladder/tournament system by the time this meeting comes around. Please note that we will be holding a small vote during this meeting to get some feedback for game mode rotations and maps for the new 66 slot server we will have, along with announcing the newest AK907 members, and many other things that I would like to discuss! It's sure to be an exciting one, so I look forward to seeing you all there!
Closing
Well that's all I have for today… I'm not going to lie, this post has been written for a while, I just needed to change a couple things on it, ha-ha! I'm glad I was finally able to get it posted though, and before Christmas too!
I want to wish every single one of my members a VERY Merry Christmas and a Happy New Year! May you receive lots of gifts and not go broke buying gifts for everyone else. LOL!
See you on the battlefield, SOLDIER!
-GvnrRickPerry